For me the highlight of the second year at senior high is the traditional prom night. We second grade students arrange a ball in February, quite often it happens to be close to Valentine's day. We celebrate the fact of becoming the seniors at our school since the third grade students have just been 'kicked' out of school to start their preparation for the final exams.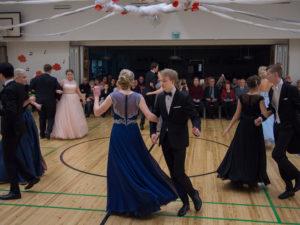 Apart from being a dress celebration, the most anticipated things are the girls' hairdos and make-ups. The boys look really handsome in their suits, too.
Mostly we dance old salon dances, such as Cicapo, Waltzes and Charleston.
We practice them a lot. In fact, there is a whole PE course in them, but since it is voluntary not everyone is participating.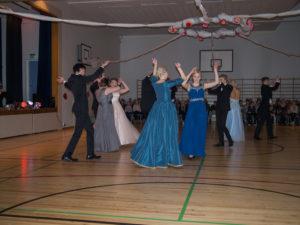 We dance three times for three different audiences. At the evening performance we dance in front of our friends and relatives who have even paid a little entrance fee to get in.  We also have a buffet of coffee and home-made cakes for the audience before the dance begins. The final dance is open to the audience as well – many moms and dads, aunts and uncles join in the dance with their children.
People take a lot of photos  in the event and share them on different sites on the net.  Our prom day ends with joint partying in Savitaipale (a neighbouring village) with students from Savitaipale Senior High.
There is an anticlimax the next day: we need to clean the hall where we danced!